2024 Crane Guide Edition
You can target the 10,000+ readers of Construction Equipment Guide who own or use cranes with our Crane Product & Service Guide.

Construction Equipment Guide offers you the opportunity to target users from the database of our four regional publications. The Crane Product & Service Guide is distributed throughout the Northeast, Southeast, Midwest, and Western regions only to our readers with utilization potential.

To take advantage of this outstanding value contact us today.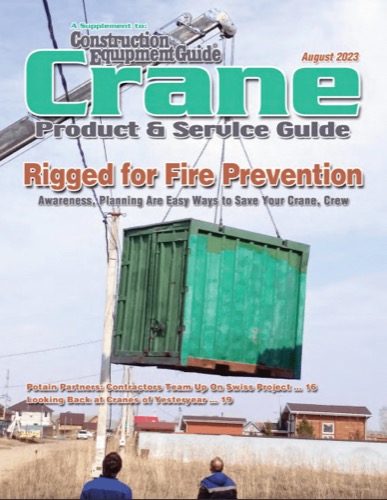 Full Page
Sizing:
Safe Area: 7.25" x 9.5"
Trim: 8" x 10.375"
Bleed: 8.5" x 10.875"
Open
6 Time
13 Time
26 Time
Full Color
Spot Color
$1325
$0
$0
$0
+$0
+$0
1/2 Page
Sizing:
3.5" x 9.5" or 7.25" x 4.625"
Open
6 Time
13 Time
26 Time
Full Color
Spot Color
$990
$0
$0
$0
+$0
+$0
1/4 Page
Sizing:
3.5" x 4.625"
Open
6 Time
13 Time
26 Time
Full Color
Spot Color
$700
$0
$0
$0
+$0
+$0
All rates include 4-color printing.
Bleed available for full page ads and size is 8.5" x 10.875"
crane guide Publishing 2024
Issue
Closing Date
Publishes with issue 4
January 17
Publishes with issue 9
March 27
Publishes with issue 13
May 13
Publishes with issue 17
July 17
Publishes with issue 22
September 25
Publishes with issue 26
November 18